main content
Conoscere le lingue è + bello
Knowing different languages means knowing different people
Behind every language is a person, with his or her own story, experience and approach to one or more languages, for professional reasons, as a hobby or for family reasons; this person can become an effective testimonial, a positive and encouraging example. This is why the awareness campaign for language learning, put in place at the wishes of the Office for Bilingualism and Foreign Languages of the Autonomous Province of Bolzano- South Tyrol, focuses on the faces of well-known and lesser-known people, adults and children alike.
Everyone was sticking out their tongue and this is what the claim of the campaign is playing on: "It's better to know languages". This was also the graphic symbol used to bring together all events, a shocking pink smile showing its tongue.
Events, cinema ads and advertising inserts were seen throughout the area, telling people that it is never too late or early to learn a language, that knowing how to speak more than one language is great and it broadens our horizons. It is an invitation to become ever more plurilingual, to increase the number of languages you know and as well as gaining an approach to new languages, to find out more about the cultures they represent. As the Councillor for Italian Culture, Christian Tommasini underlined, skills in several languages also allow us to appreciate in full the benefits of living in a plurilingual area such as South Tyrol.
A refreshing and unusual campaign that gives a friendly feel to language learning, going some way to removing the sense of anxiety that often makes it difficult for us to approach languages other than our own.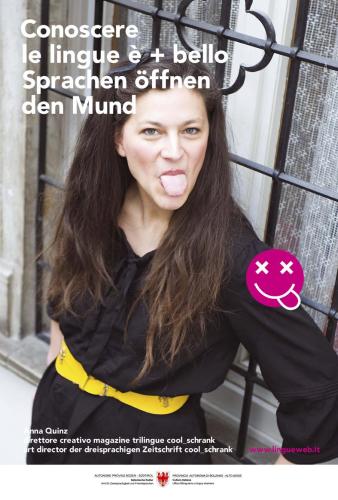 A welcoming and relaxing but at the same time, stimulating environment is what you will find when you enter the Bolzano Multilingual Centre or the Merano Multimedia Language Centre, which have become popular both with locals and with people from other nations.
This message has also been passed on through a series of events/meetings, Agenda 2009, organised in conjunction with various local bodies and organizations. On these occasions, different testimonials talked about languages from their viewpoints at important sites in the city of Bolzano, with interesting combinations such as art and languages, cookery and languages, architecture and languages, music and languages, or business and languages.
This was a campaign that also involved a host of different offers, each with its own originality and irony, to reach as a wide and varied public as possible. In its own way, each of these proposals will continue along the path that the Office for Bilingualism and Foreign Languages has been pursuing for years, promoting wide-ranging events such as seasons of films in their original language, for example, to encourage the general public to love and study languages.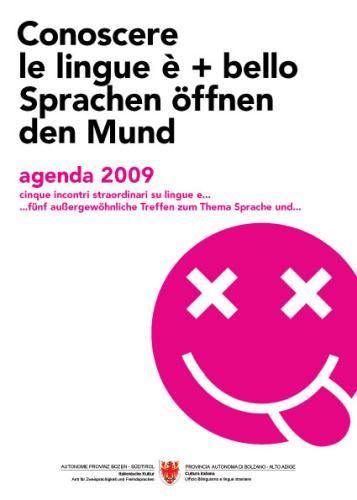 Download the Agenda 2009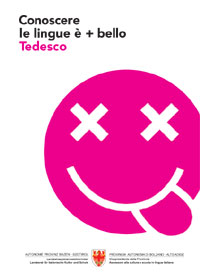 Download the brochure Conoscere le lingue é piú bello - tedesco