main content
Living library
The Human Library at the Centro Multilingue of Bolzano
In the footsteps of the Danish experience of 2000 that has inspired a large number of events around the world, it was the turn of the Multilingual Centre of Bolzano to successfully propose the Human Library to its users.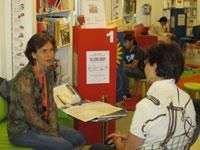 The concept is quite simple but the results have been truly surprising. Several people of foreign origin place their time and life stories at the disposal of an event organised like a "normal" library. The volunteers, who impersonated books telling real life stories, often intense and thrilling, were 'borrowed' by 'readers' who selected them from a specific catalogue with the help of the 'librarians', in this case the staff of the Multilingual Centre.
The Human Library has been organised three times in the course of the last few years: on the occasion of the "Giornata delle Biblioteche" (Library Day) in October 2011, within the context of the project "Verso una cittadinanza attiva" (Towards An Active Citizenship) in May 2012 and in July 2014 during the "Euromediterranea" event.
All of these occasions spontaneously triggered an interesting mixture of nationalities and origins, ranging from the Scandinavian countries to Eastern Europe, from the Middle East to the Indian peninsula and all the way to South America and Australia, as volunteers coming from all over the world shared with participants their variety and novelty, enthusiasm and experiences.
In the twenty minutes placed at the disposal of the reader, each "book" has the possibility of making him/herself and his/her story known, along with his/her traditions and the culture of his/her homeland, as well as, sometimes, the discrimination encountered in his/her new life in our country. In this way, the books offered the readers the chance to question some of the prejudices that everyone inevitably carries within him/herself.
Indeed, in this format the 'reading' is not a monologue, because the reader is free to ask questions, to debate specific issues and to satisfy a number of curiosities, always within a framework of respect and tactfulness.
The aim of the project is to enable people who on a daily basis might never meet to engage in direct conversation and to allow them to get to know each other better, thus challenging prejudice and favouring integration.